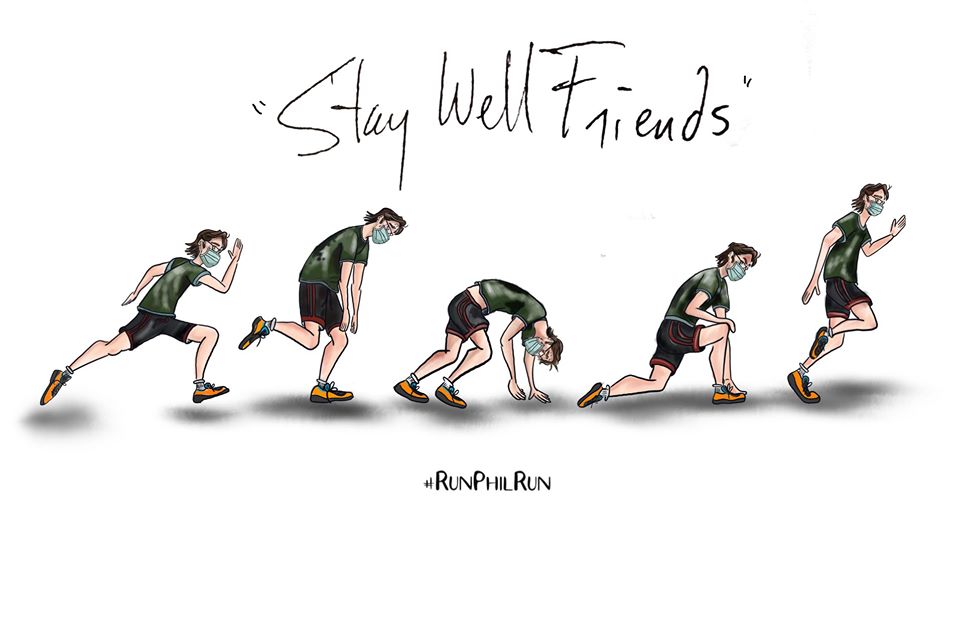 #RunPhilRun2020 & World Mental Health Day
Well … a year ago right now, did we ever have some big plans … not unlike a lot of people and organizations I guess.
When we launched #RunPhilRun2019, I think most of us felt it would be a one year thing. The goal was to draw a little attention to some amazing Mental Health groups here in Midwestern Ontario. Somehow though, the initiative seemed to take on a life of it's own and received so much incredible support that it just felt wrong to let it die.
So, we began to plan #RunPhilRun2020 and things got off to a pretty great start. We planned new routes, had new sponsors climbing on board and we were all very excited about it … and then at the end of March, we all hit the COVID 19 wall.
The months that followed were a strange mixture of feeling disappointed, sad, frightened at times and even some occasional anger. I admit there were also times of feeling a sense of peaceful surrender, knowing there wasn't much that could be done.
As restrictions started to loosen up near the end of June we started to talk about the possibility of an October event, maybe something during World Mental Health Week. Was I in shape, hell NO … in fact I'd gained a bunch of weight and hadn't really run much at all. There was a fair bit of baking done in a lot of those peacefully surrendered moments. 😉
We faced other obstacles: There had been some changes at the radio station that left us without some important members of our team. Social distancing, COVID restrictions and life itself just seemed overwhelmingly confusing.
Maybe the biggest obstacle of all though was/is … my own brain. Trying to inspire myself to train, get in shape and honestly, just find the will to get off my ass and do something …anything. To top it off, a few weeks ago I banged (I'd say stubbed, but it was more than a stub) I BANGED my big toe off my coffee table. I'm not sure tbh if I broke it but it's still swollen and it still hurts.
Where am I going with all this … making excuses? .. Ya, maybe a little but also just laying it out there. Physically, emotionally, mentally … it hasn't been an easy year for any of us, myself included. Too many of the people and partnerships we had set up were/are in a state of flux or are no longer available, and while I maybe could have done a more than I'm doing, I didn't … plain and simple. #Lazy #Melancholy #Tired #Anxious #AllTheThings
So here's the deal:
Saturday, October 10th is World Mental Health Day. Beginning around 9:am, I'm going to walk/run/crawl …honestly it'll be mostly walk (maybe crawl) from Exeter to the Tanner Steffler Foundation offices in Seaforth.
It's about 27k so not the 24 I like to do to mirror a day in the life of mental health struggle … but I'll consider the extra few k's penance for not getting my act together a little better.
No fan fair. No buncha media exposure. No interviews with Scott Miller or any of the fine organizations we support and believe in. No school kids cheering along the way. No parties.
More than anything, it's a way for me to recognize the day, try to keep the spirit of the run alive and maybe, if you're feeling like you want to help, you will log on to one of the links below and make a donation to one of the amazing organizations who deserve so much more than 2020 has given.
I'm not sure what it will look like, but please know that we WILL be back 2021.
Thank you for all you do to encourage and support the initiative of these amazing mental health organizations in Midwestern Ontario: