7/65 – How Are You … Really?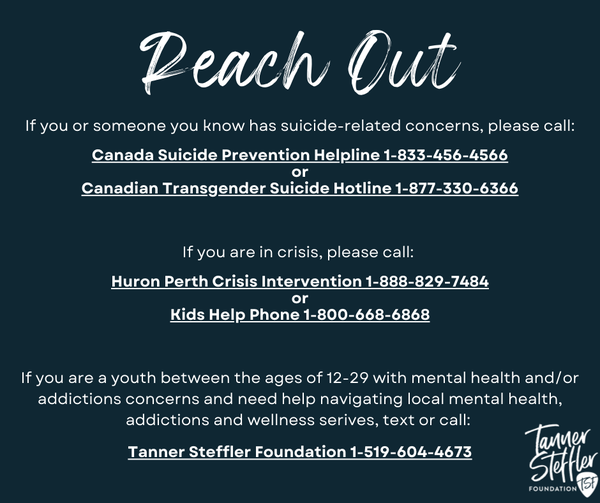 Mental Health … we all have it and occasionally we all struggle with it at varying degrees. On the podcast this week, we're catching up with John Steffler to learn a little more about him, his family and the loss of their son/brother/grandson. We will talk about the Tanner Steffler Foundation, founded in Tanner's memory, and how it serves as a response to their grief and as a lighthouse of hope and resources for other young people and families in the community.
But before we chat with John …
*****
A few years ago I got a message wondering how I was coping after a very special fundraising effort I'd been a part of. I, along with an incredible team of support staff and friends had run 120k spread over 5 consecutive days to raise awareness for 5 mental health organizations in Midwestern Ontario. #RunPhilRun  The training and planning had consumed my life for several months prior. I responded to the message and told her I was fine. She asked again, "How are you … really?" I was in fact, not fine. I was dealing with post show blues … the sadness that often comes for me when something wonderful reaches its natural conclusion.
"Milli" and I had met at a TSF event in March of 2019. We gathered with, well over 100 other people that evening at the Livery in Goderich, to be In Conversation about our mental health struggles and the fight to remove the stigma that often surrounds it.
This first week of May (May 1 – 7) is a time for communities, families and friends to come together to mark Children's Mental Health Week.
That and all of the above considered … we thought perhaps this might be an okay time to tell you quickly how it all started for Boomer & Milli …  and how it's going.
*Side note: If you're wondering …what is the Boomer & Milli thing about? Fast forward to a time about a year ago …
Her: Do you know where we are?
Me: Not exactly … there's a map in the glove compartment if you wanna grab it.
Her: Whoa … slow your roll there Indiana Jones … I'll just Google Map it.
Me:
Her:
Me: Millennial
Her: Boomer
It's pretty simple, but there it is. The birth of The Adventures of Boomer & Milli
I know … this post is all over the place and chaotic but that's kind of who we are … So without further ado (he said, furthering the ado) please click the link below for more on our story and my conversation with John.
A Life That's Good – Podcast – "How Are You … Really?"
And, please see the pics below for a few glimpses into that special night in 2019 and a couple extras in support of TSF and better mental health for us all.